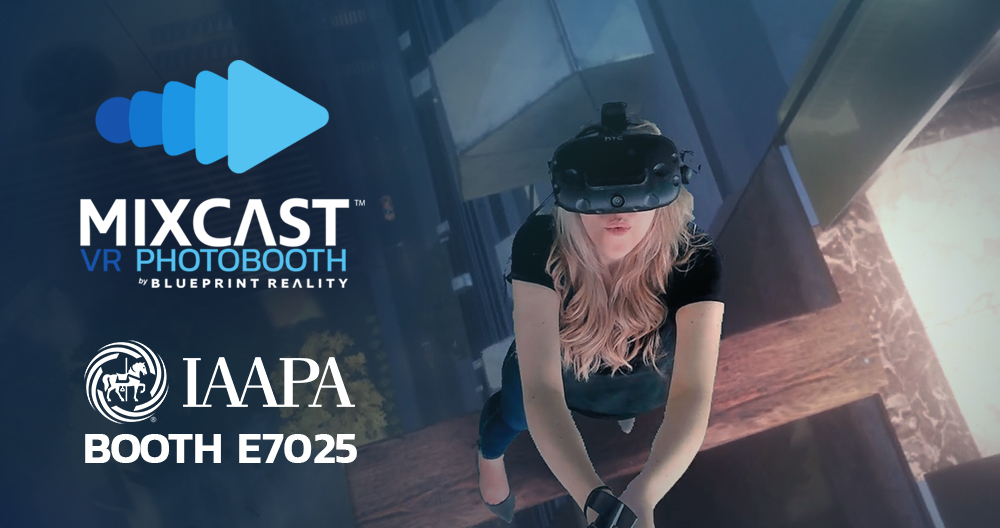 Today marks a huge announcement from us at Blueprint Reality: we're proud to unveil MixCast VR Photobooth, our newest hardware/software solution for LBVR (location-based virtual reality) venues, from VR arcades, to free roam venues, and FECs. We'll have plenty more to announce throughout this week, so read the official press release below for all the details, and stay tuned for more!
If we've piqued your interest, we'd love to get in touch! Hit the button below to read the details, then fill out the contact form and we'll reach out!
Find Out More
Find Out More
BLUEPRINT REALITY INTRODUCES MIXCAST VR PHOTOBOOTH
The "No Green Screen" Mixed Reality Platform Delivers New Social Sharing Solution To VR Arcade, FEC and Free Roam VR Operator Customers
Vancouver, BC November 12, 2018
Blueprint Reality Inc. (Blueprint), a virtual reality (VR), augmented reality (AR) and mixed reality (MR) developer based in Vancouver, Canada, today announced the initial rollout of MixCast VR Photobooth. Catering exclusively to VR Arcade, FEC and Free Roam VR Operator customers, MixCast VR Photobooth makes VR social! For the first time, guests can create photos and videos of themselves inside their in-venue VR experience and share them via their favorite social network in mixed reality.
Check out MixCast in action here: https://youtu.be/UbjLGGVTw0k
"We believe today's initial rollout of MixCast VR Photobooth will be particularly exciting for our Arcade, FEC, Free-Roam VR and other Location Based Entertainment partners who have been waiting for the solution that enables their guests to 'Create, Capture and Share' their in-venue, VR experiences in mixed reality," said Tarrnie Williams, Co-Founder and CEO, Blueprint Reality.
Blueprint Reality Co-Founder and Chief Technology Officer Ben Sheftel added, "People of all ages, around the world, are enjoying mixed reality experiences at their favorite trampoline parks, resorts, casinos and other entertainment venues. Now they can instantly show these experiences to their friends and families via their social profiles – an organic and highly effective promotional vehicle for our partners!"
The Blueprint Reality team will be at the International Association of Amusement Parks and Attractions (IAAPA) Convention in Orlando, FLA providing demos for MixCast VR Photobooth beginning tomorrow at booth E7025. To schedule an appointment, contact bizdev@blueprintreality.com.
MixCast Press Kit: https://bit.ly/2JWulwb
About Blueprint Reality
Founded in 2016 by Tarrnie Williams and Ben Sheftel, Blueprint Reality is the creator of the MixCast™ platform, which allows anyone to create, capture and share their in-world virtual reality (VR), augmented reality (AR), and mixed reality (MR) experience via social, video and streaming platforms. Available for download at the mixcast.me website, MixCast is a simple, seamless solution for content creators, game developers and publishers to expand their experiences to VR, AR and MR audiences. Merging virtual and real worlds, MixCast is the best way to communicate what a VR, AR and MR experience is like – allowing users and spectators to connect across the borders of reality. MixCast makes VR social! Learn more at mixcast.me. Blueprint Reality was selected by Ready to Rocket as a 2018 Revenue Growth Leader of Tomorrow. Ready to Rocket identifies technology companies across British Columbia with the highest growth potential. The MixCast team is eager to engage developers, creators and users about their mixed reality projects at https://discord.gg/x6Gjb8z
Contact:
Liz Pieri for Blueprint Reality
M: 626/818-7580
E: liz@pieripr.com