We're excited to introduce MixCast Moments to the world today! MixCast Moments is a new way for VR players to share the magic of being in another reality with the rest of the world. Create exciting in-VR experiences, capture the moment, and share with friends and family. We're showing MixCast Moments this week at CES 2019. If you're at the show, stop by for a demo and get your own MixCast Moment to share your VR adventure!
If you've got a VR arcade or location-based VR attraction and are interested in offering MixCast Moments to your customers, or if you're a VR developer and would like to create MixCast Moments from your VR experience, please fill out the form below to contact us for more details.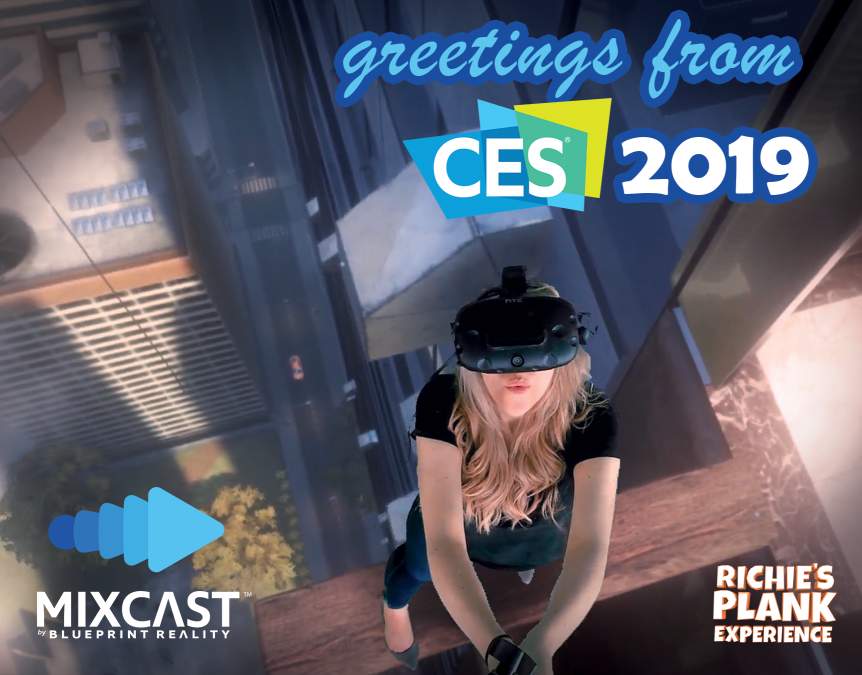 Blueprint Reality Unveils New Mixed Reality Video Stories for Virtual Reality Arcades
Players Can Now Share Their "MixCast Moments" Over Social Networks 
Las Vegas, NV- January 8, 2019 – Blueprint Reality Inc. (Blueprint), the creators of MixCast, a virtual reality (VR) broadcasting platform, today unveiled MixCast Moments. "Moments" are a new way for VR game players to share the magic of being in another reality with the world via their favorite social networks.
MixCast Moments allows VR game players to seamlessly create and capture video clips of their real-life selves from multiple camera angles inside their favorite VR gaming experiences. The process is completely automated and based on the player-driven, in-game experience. MixCast weaves these clips into a seamless story that VR players can share with social communities on Facebook, Instagram, Twitter, and YouTube. MixCast Moments will initially be available at VR arcades beginning this year.
"One of the biggest challenges for the VR industry is that potential consumers don't really understand the powerful immersion of VR until they try it", said Tarrnie Williams, CEO of Blueprint Reality. "And for companies marketing VR experiences, it's like selling TV over the radio in the 1940s. MixCast Moments makes the player a star in their own short video, complete with multiple camera angles, music and sound effects. When people view a MixCast Moment, they immediately want to try VR for themselves"
To support these immersive experiences, MixCast Moments is optimized for Intel® Core™ i7 and Intel® Core™ i9 processors and utilizes multithreading to enable multiple cameras and high-frame rate performance. MixCast Moments also integrates Intel® RealSense™ cameras, Intel's ready-to-use, out-of-the-box cameras for mixed reality capture without the use of a green screen, so players can begin to understand what's possible in the world of 3D immersive media.
Blueprint Reality is unveiling MixCast Moments to the world at CES 2019 in the Intel Booth (#10048). Check out this MixCast Moments video from Richie's Plank Experience and come create your own MixCast Moment at CES.
About Blueprint Reality
Founded in 2016 by Tarrnie Williams and Ben Sheftel, Blueprint Reality is the creator of the MixCast™ platform, which pushed the boundaries of spatial computing, allowing anyone to create, capture and share their in-world virtual reality (VR), augmented reality (AR), and mixed reality (MR) experience via social, video and streaming platforms. Available for download at the mixcast.me website, MixCast is a simple, seamless solution for content creators across multiple industries to communicate via VR, AR and MR. Merging virtual and real worlds, MixCast is the best way to communicate what a VR, AR and MR experience is like – allowing users and spectators to connect across the borders of reality. Learn more at mixcast.me. Blueprint Reality was selected by Ready to Rocket as a 2018 Revenue Growth Leader of Tomorrow. Link to press kit.
Contact:
Liz Pieri for Blueprint Reality
M: 626/818-7580
E: liz@pieripr.com