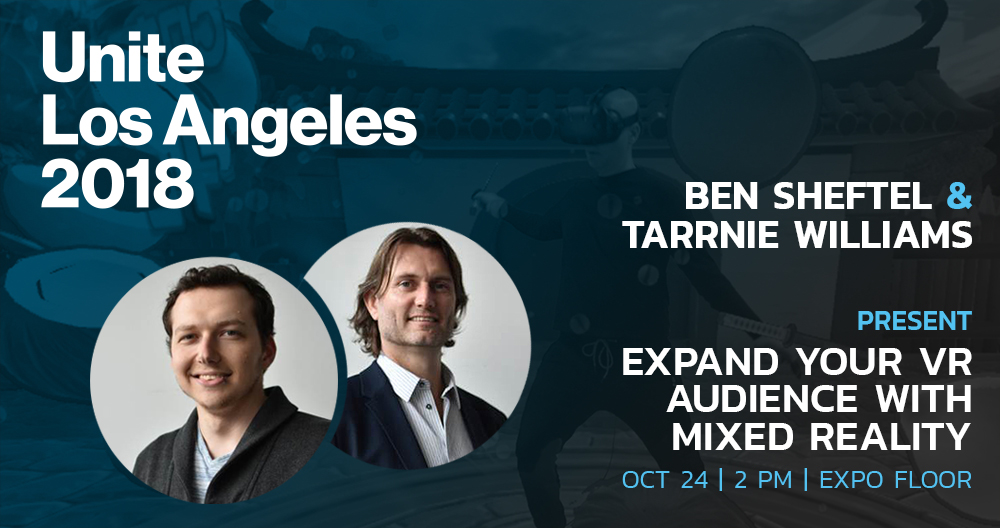 In the early days of virtual reality, Unity came out as the go-to engine for the newly forming world of VR and AR games, and remains a pillar of the industry today. Their annual Unite conferences have become hubs of creative and interactive learning for Unity users across the world, and so we're very excited to announce that our co-founders Tarrnie and Ben will be presenting their newest talk at this year's Unite Los Angeles!
Their keynote will focus on the intersection between mixed reality and VR audiences; specifically, how VR creators can inform and expand their audiences through mixed reality technology. If you have plans to attend Unite LA this year, be sure to check them out on the Expo Floor at 2pm PT, and check out the full details in the press release below!
Blueprint Reality Co-Founders Tarrnie Williams and Ben Sheftel Present at Unite Los Angeles Conference
Unite Los Angeles Brings Leading Content Creators Across Multiple Industries Together to Share Their Advancements Through Unity
Vancouver, BC October 24, 2018
Blueprint Reality Inc. (Blueprint), a virtual reality (VR), augmented reality (AR) and mixed reality (MR) developer based in Vancouver, today announced that company Co-Founders Tarrnie Williams and Ben Scheftel will be presenting at Unite Los Angeles – Where Creators Come Together.
Unite Los Angeles invites users to get up-to-date with the latest developments in the Unity content-creation engine, which is used by a community of millions. Attendees will see the beautiful and amazing things other creators are doing with 2D, 3D, and VR/AR games and experiences in Unity. Thousands of creators, across multiple industries including games, film, auto and AEC, come together at Unite Los Angeles.
Tarrnie and Ben will be offering the talk Transform your VR Experience and Expand your Audience with Mixed Reality today, Wednesday, October 24 at 2 p.m. pac.
About Blueprint Reality
Founded in 2016 by Tarrnie Williams and Ben Sheftel, Blueprint Reality is the creator of the MixCast™ platform, which allows anyone to create, capture and share their in-world virtual reality (VR), augmented reality (AR), and mixed reality (MR) experience via social, video and streaming platforms. Available for download at the mixcast.me website, MixCast is a simple, seamless solution for content creators across multiple industries to communicate via VR, AR and MR. Merging virtual and real worlds, MixCast is the best way to communicate what a VR, AR and MR experience is like – allowing users and spectators to connect across the borders of reality. Learn more at mixcast.me. Blueprint Reality was selected by Ready to Rocket as a 2018 Revenue Growth Leader of Tomorrow. Ready to Rocket identifies technology companies across British Columbia with the highest growth potential. Link to press kit. 
Contact:
Liz Pieri for Blueprint Reality
M: 626/818-7580
E: liz@pieripr.com