Using the MixCast OpenVR Driver
Unlike titles that have integrated the MixCast SDK, titles relying on SteamVR's SDK to create Mixed Reality require a third tracked device (a tracker or controller) to be detected by SteamVR in order to activate the Mixed Reality functionality. Since not everyone has the physical hardware for this, MixCast provides an automatic solution: the MixCast OpenVR Driver.
This functionality appears as a MixCast icon within your SteamVR status window.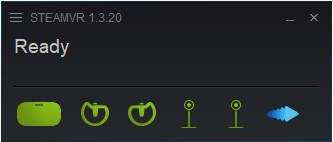 Note: To activate the driver and create Mixed Reality from a SteamVR title (not MixCast SDK), you must have both your hand controllers on, tracked, and identified by SteamVR. This may require that you actually put on the VR headset and interact with the experience. If one of your hands remains invisible or the MixCast icon doesn't appear/fill, try turning your controllers off and on, or SteamVR entirely. When using a Vive, you can confirm your hand assignments by checking that they have these hand icons displayed in the SteamVR dashboard: