Arcade installations with a MixCast Arcade license can utilize the MixCast Cloud to store, view and sell mixed reality media created with MixCast! To do this you will need to configure your desktop installation of MixCast with your unique arcade URL.
Note that before you can configure the Cloud settings, you must have already entered the MixCast Configuration app to set up media production.
Receive your MixCast arcade information e-mail from Blueprint

which includes your arcade's unique MixCast Cloud URL. This will usually be in the format:

https://your-org.mixcast.cloud/kiosk

Launch MixCast on any PC you want to upload media to MixCast Cloud for viewing and purchase. Note that you must have a license offering this functionality (Generally an "Arcade" license).

Click the

Settings

wheel and choose

Open Preferences.
4. In the Cloud section, enter the full URL of your Cloud instance as described in step 1.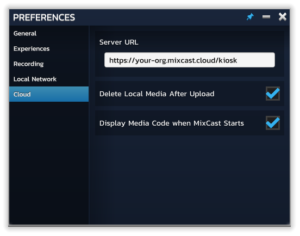 Now you can configure any remaining sections of your MixCast installation and start capturing media! Screenshots and videos will now automatically be uploaded to your MixCast Cloud for purchase and viewing.

a) Optionally, you can choose whether Local Content should be deleted after upload. Leaving this unchecked allows you to keep your media on the PC's hard drive, but you will need to ensure that the hard drive does not become full.
b) [Beta Feature] You can select to display a Media Code when MixCast starts. Customers can scan the QR code to be presented with the delivery flow for that session's media